9 Custom Designed LED Lamps
Contemporary, sophisticated LED lamp designs hand-made in the USA. Most designs can be modified to your specifications.
All items ship FREE to the continental United States. New designs continually added.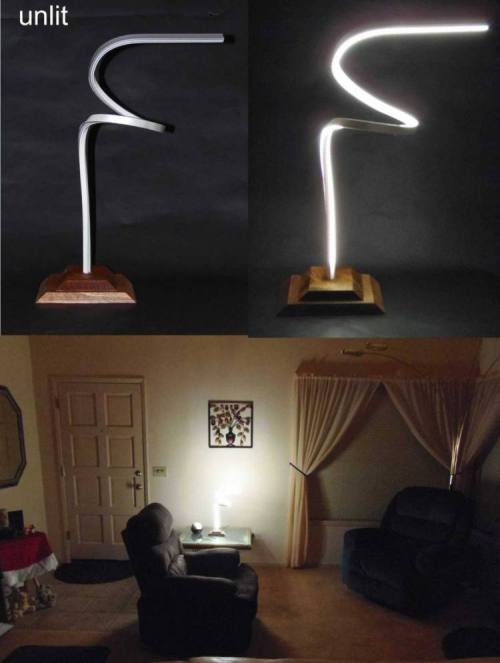 The "Twist" is hand-formed satin anodized aluminum set in a tiered base of 3/4″ unfinished clear pine.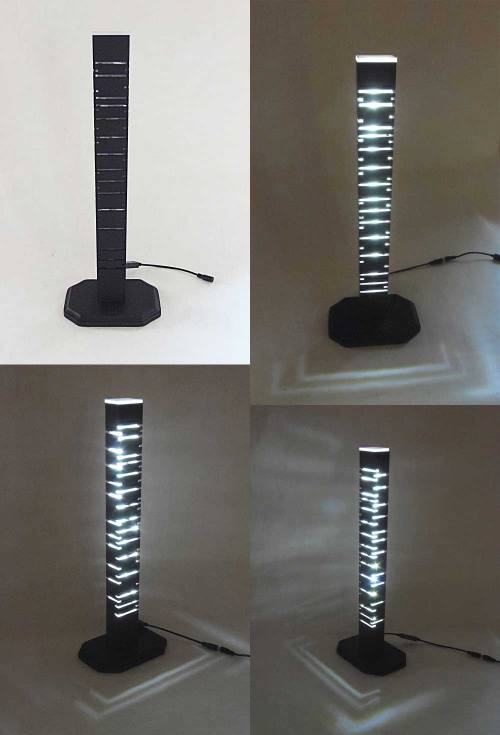 "City Lights" is an LED accent lamp designed as a stylistic representation of a skyscraper lit at night. Hand-cut in flat black aluminum, and mounted on a 3/4″ thick flat black pine base. 

2-in-1 Convertible Cloud Lamp
A cloud lamp you can hang on the wall or hang from the ceiling?? YES to all of these options!
This is not a "ball" of fibre fill glued to a paper lantern, but a wrap-around on a PETG base – there is no backside so it can be hung on a wall or suspended from the ceiling.
LED Neon Heart Lamp – White or Pink Light



Bring a little love into your home with this led neon heart lamp. Mounted on 1/4″ clear acrylic, the LEDs are double-sided so you get the 3D effects as shown in the photo.
The base is unfinished solid fir – leave it as is or finish with paint or stain of your choice. Lit photos are at max output. 

Twist III Ultra Contemporary LED Lamp
Twist III is hand-formed satin anodized aluminum set in a triple-tiered base of 3/4″ unfinished clear pine. The light is pure white, high lumen output, with extremely low energy consumption and greater than 50,000 hours of life.
The base can be stained or painted to your preference. 
All-aluminum minimalist LED lamp can be used as a desk, table or accent lamp. The finish is satin anodized, with an inline on/off/variable dimmer touch switch.

The "square peg in round hole" construction allows total flexibility of the light orientation without removing the base. You can also change the elevation of the lamp by sliding the base up or down.
The LED color is cool white.