FlexaLamp:

One Lamp, Thousands of Possibilities!

Design Patent Pending
Use it as an Accent Lamp/Photo Frame/Night Light +
The lamp with the "anything" wrap-around shade YOU can change at any time, over and over. You can use:

 decorative films ♦ fabrics ♦ transparencies ♦ photos ♦ gift wrap paper, etc. Or just use it as a basic lamp.
Using Photos, Wrapping Paper & More
Use any photo printed on photo paper. You don't need to use transparencies!
Instructions can be found HERE.
Use any thin fabric as shown. You can use transparent tape around the perimeter or spray a repositionable adhesive on the fabric and attach to the smooth side.
Instructions can be found HERE.
I used decorative window film (instructions can be found HERE). Note the wrap-around feature of this lamp. An excellent selection of films can be found at: decorativefilm.com
This feature allows you to "split" the shade into different looks by using separate materials along the length of the shade.
Then, by simply rotating the base you to have a "new" lamp shade!
This is the basic lamp. You can use it as-is or use your own materials as shown in the photos for a custom shade. Let your creative side shine!
The included dimmer switch allows you to adjust brightness to be used as a night light.
FlexaLamp components – light base and unmounted shade. Shown with window film I used (NOT included).
Installing Shade into Base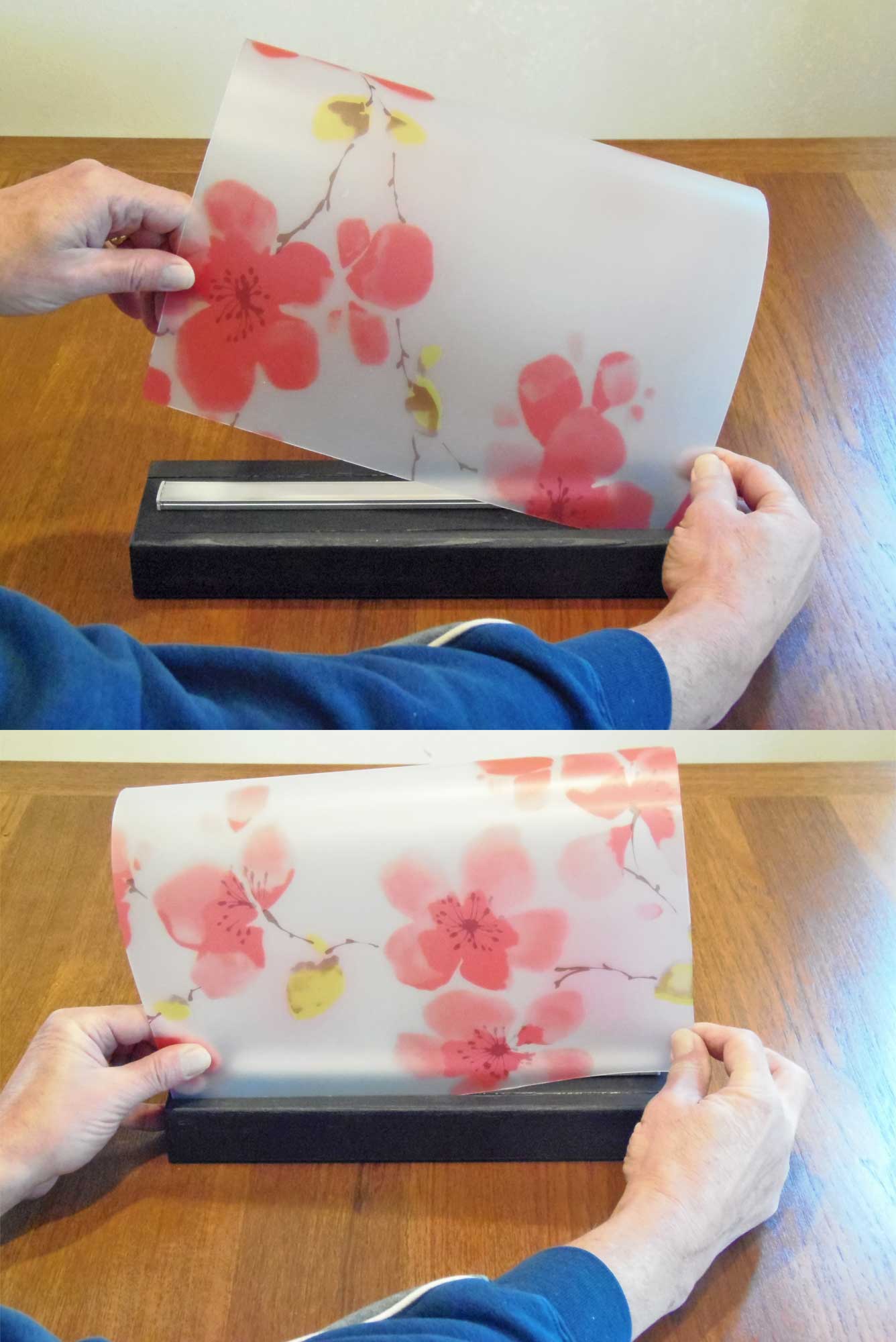 Insert one edge into slot and press down. Continue until that edge is fully inserted, then rotate the base and repeat for the other side.
Dimmer Switch & Transformer
Safe, 12V power supply with touch dimmer switch. The switch has a memory, which means the level of dimming when set to off will be the same level when switched back on. Touch for On/OFF, touch and hold for dimming.