"Splash" Contemporary Mirrors
Just as the name implies, the Splash series is a unique and fun design approach to mirrors. The technique involves sandblasting the silver off the back of mirror using a proprietary masking material. The result is a unique pattern of mirror with a translucent background through which the wall on which it's hung is muted. FREE SHIPPING within the continental US.
If  you prefer, you can paint the background whatever color you wish as shown in my Freeform mirror below – no masking or special preparation required!

For information not related to the designs, please use the Contact form.
Prices for the specific styles/dimensions shown include shipping within the continental United States.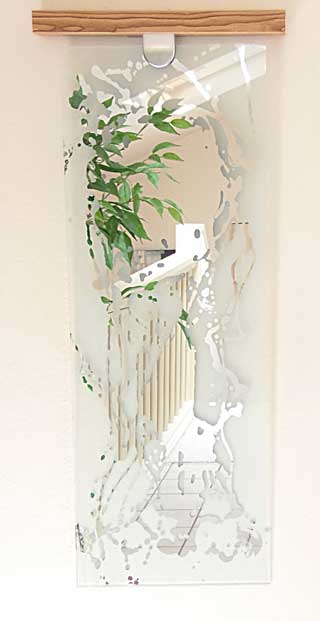 Splash II is frameless with polished glass edges. And something else – the unique "pendulum" method of hanging. Suspended from a raised-grain, walnut stained fir bar by a solid brass, satin chrome finished clamp, this piece really stands out.
The bar mounts to the wall by a concealed "Z" clip, and maintains its parallel distance from the wall with concealed spacers, so there is no tilting as would be the case with wire-hung methods.
As shown:
Overall dimensions: 17″w X 40″h
Price: $399
Mounted by the same pendulum method as Splash II, Drip is, well, dripping with mirror!

As shown:
Overall size: 17″w X 35 1/2″h
Price: $349