"Splash" Contemporary Mirrors
Just as the name implies, the Splash series is a unique and fun design approach to mirrors. The technique involves sandblasting the silver off the back of mirror using a proprietary masking material. The result is a unique pattern of mirror with a translucent background through which the wall on which it's hung is muted. FREE SHIPPING within the continental US.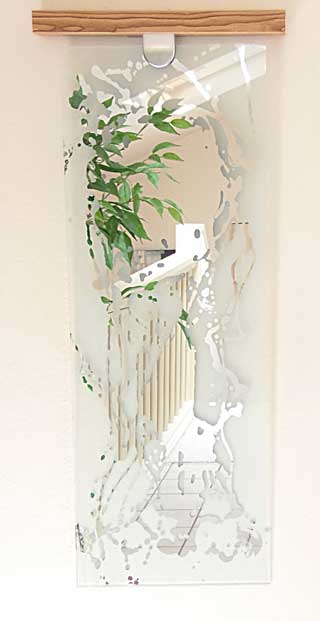 Splash II is frameless with polished glass edges. And something else – the unique "pendulum" method of hanging. Suspended from a raised-grain, walnut stained fir bar by a solid brass, satin chrome finished clamp, this piece really stands out.

Mounted by the same pendulum method as Splash II, Drip is, well, dripping with mirror!

As shown:
Overall size: 17″w X 35 1/2″h
Price: $349